Best Hybrid Solar System Using Studer Hybrid Inverter in Kerala; Reduce your Power Bill by 98% and Have Back-up Power for 24*7 throughout 365 days
🌞Application: Solar PV + Storage
Project: 4kW Hybrid Solar Power Plant for Residence
📍 VARKALA, Kerala
https://www.comorinsolar.com/products/residential-hybrid-solar-system/
👍 Customer: Dr. Jemeen Sreedharan (Neuroloist —UK) & Mrs. Baby Sreedharan
Mom and Son opted for Savings and Sustainability through Solar Power
This house is located in Varkala with bee hives, organic garden for fruits and vegetables. They Cultivate and Consume along with their Sustainable Lifestyle.
System Components
☀️ Solar Modules: Panasonic 450 Watts
☀️ Inverter: STUDER XTM 4000-48
☀️ Charge Controller: VT-80
☀️ Exide 200Ah Batteries 4 nos.
☀️ Mounting Structure by Comorin Solar
☀️ Remote Monitoring via LAN Cable
☀️ Cooper Bussman HRC fuses
Load Pattern:
Fans, Lights running during day time and Night time
Inductive Loads such as 2 pumps Running 30 mins in the morning and 20 mins in the night time.
Induction Stove is Running every day on Solar Power
AC could be run 6 to 8 hours without interruption
Switching Time from KSEB Grid to Battery happens within 3 ms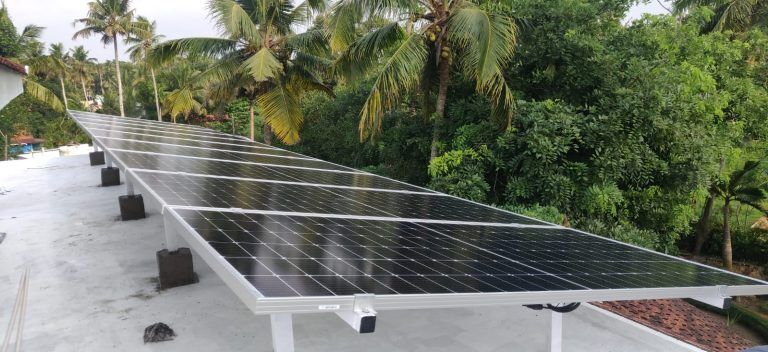 During daytime the load runs from Solar Power and during night time load runs from the battery storage. Henceforth, the KSEB Bill is reduced as well as back-up is also available during power cuts.
Hybrid Solar Power Installation cab be done with Lithium (life is 3000 to 4000 cycles) and Lead Acid Battery (1500 to 2000 cycles lifetime). Warranty comes with 60 months replacement if any defects.
Studer is an Imported Hybrid Inverter made in Switzerland. One of the Best Solar Hybrid Inverter suited for Kerala. IP-65 for outdoor units.
Residential Battery and Inverter — DC-coupled and AC-coupled residential energy storage battery provides 2.5kWh, 3kWh, 4 kWh, 5kWh, 7.5 kWh, 9.6kWh backup power.
It can be connected with even number of Lithium Ion or Lithium Ferro Phosphate (LFP) batteries.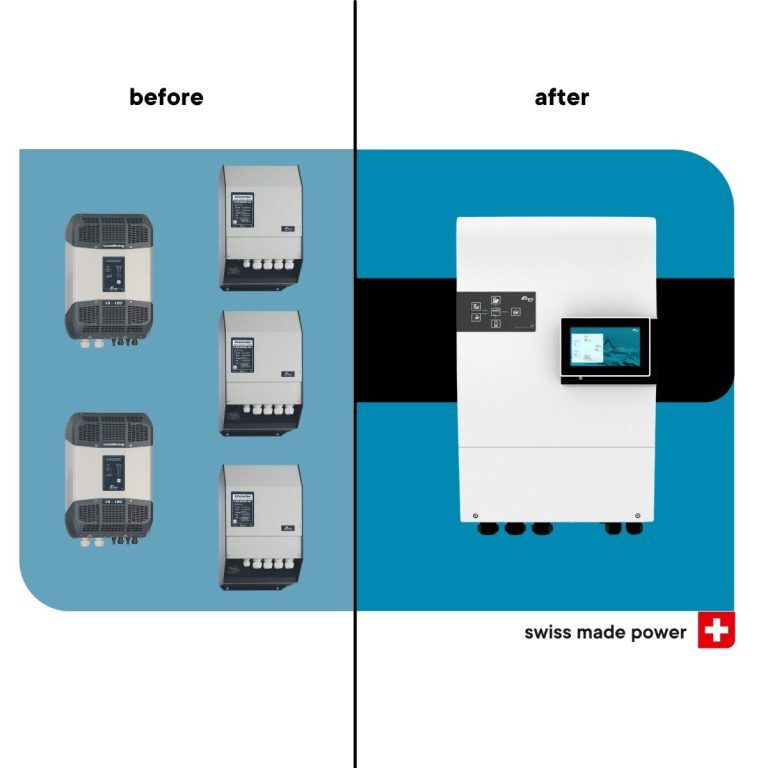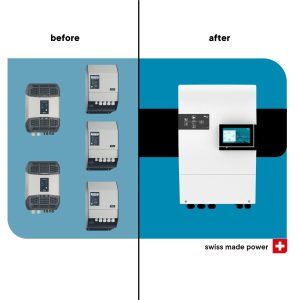 AC Coupled PV system is an ideal solution for scenarios where major load consumption takes place in the daytime and backup Energy is required at night.
Whereas DC Coupled System is best suited for Peak Consumption in Night Time (mostly preferred for Residential Houses, Villas)
The Solar Energy is prioritized to power the loads directly, satisfying the daytime high consumption at a higher efficiency. The excess Energy is stored into the batteries to secure an uninterruptible Power supply at night.
—Nominal Capacity (Ah) shall be rated @C10
—Minimum Nominal voltage (V): 2V / Lithium ferro phosphate: 3.2V
—Self-discharge (less than 3% per month at 30°C)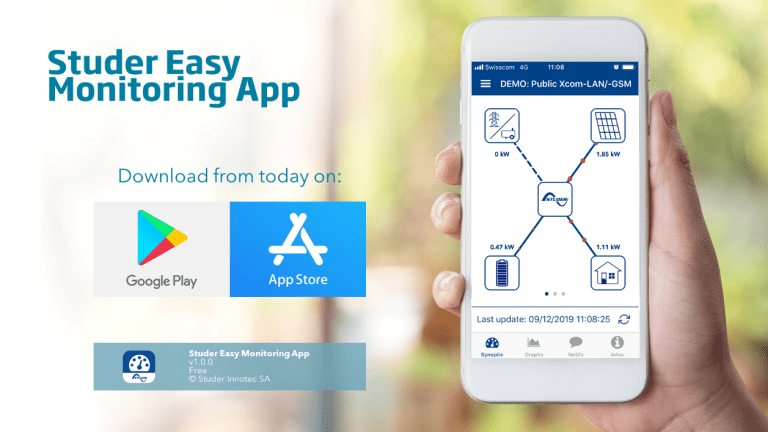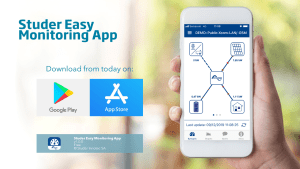 The new Studer Easy Monitoring App has a user-friendly design which makes easy to keep an eye on an installation, displaying the most important system values at a glance. While the Studer Portal provides full access to the control and configuration of the system, the Easy Monitoring App is a pure monitoring tool reading real-time and past data from the installation. Communication Interface RS485/ RS232/Wi-Fi (with or without USB)
Thus, this remote monitoring can be shared without risks to any final user of the system.
Check live status: Power, energy and battery status
Analyze past data: power and energy graphs
See the system notifications
All-In-One Storage Solution is a smart ESS system that stores your solar energy for backup power, so when the grid goes down your power stays on. Your system detects outages and automatically recharges with sunlight to keep your appliances running for days.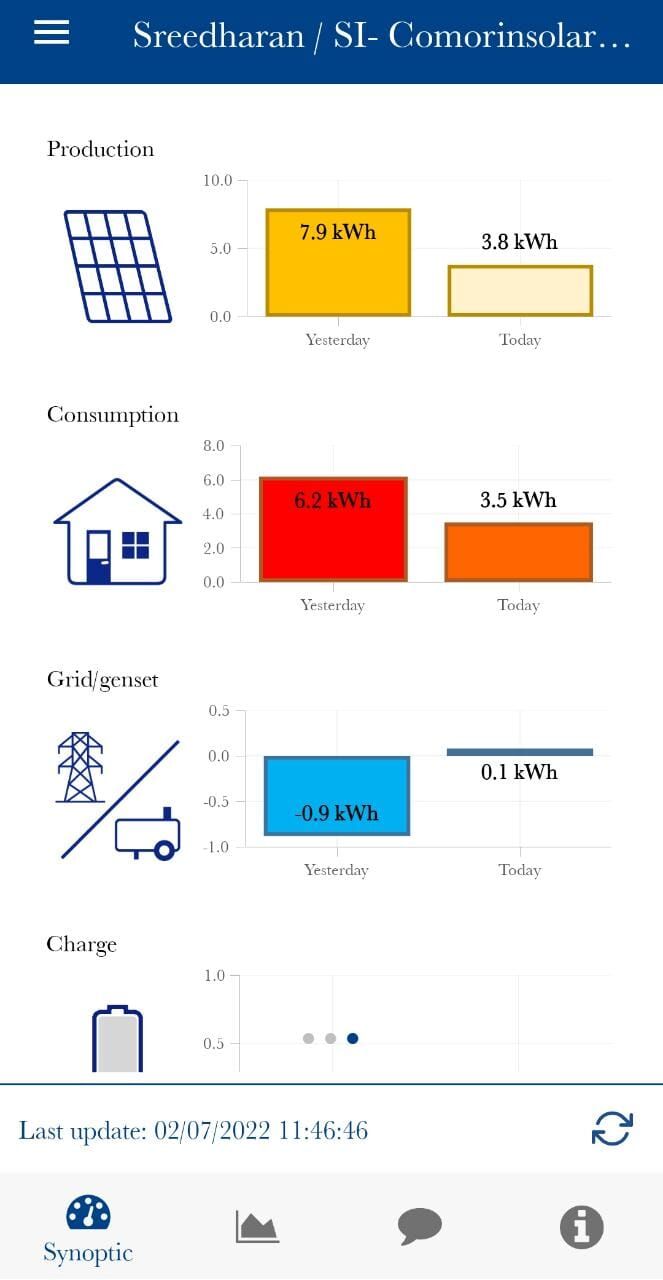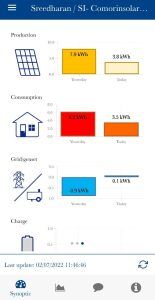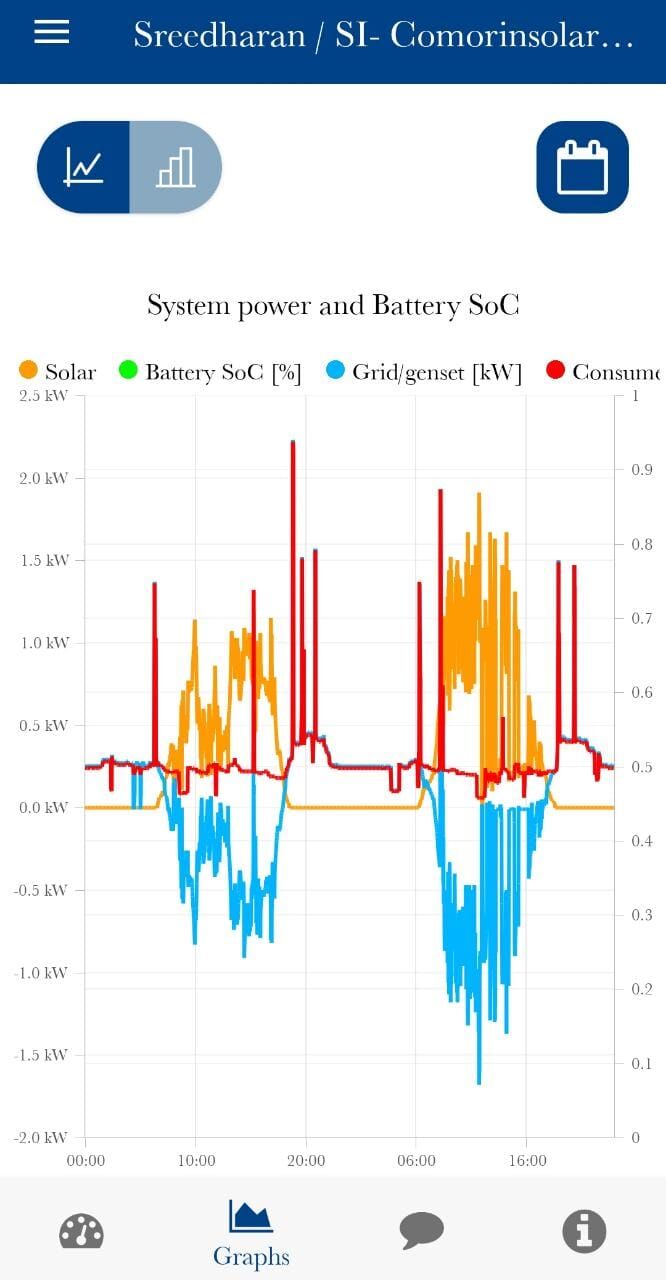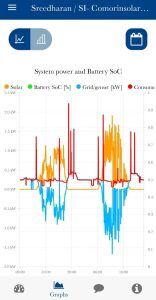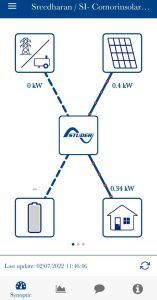 Comorin Solar Energy Storage System provides 3 major benefits:
☼ Energy Independence
☼ Backup Energy Storage
☼ Easy installation and low maintenance
☼ Cloud monitoring your home power Anytime Anywhere
For Hybrid Solar Power Plant Enquiries, more details, Contact US on: +91-9633159523, or visit us www.comorinsolar.com